We are not currently accepting applications. Please check this page for updates.
Summer Camp in the United States
Have fun

See the U.S.

Practice English

Make new friends

Prepare for university
Register Now!
Deadline May 20, 2014
 Make new American and international friends

Experience a traditional U.S.
 The Diana Kamal Scholarship Search Fund (DKSSF) makes the dream of study in the Unisted States possible for highly qualified Arab students from underserved populations in the Middle East and North Africa.  Through this initiative, AMIDEAST is able to identify students of exceptional accomplishment and promise who wish to pursue undergraduate study at an American college or university, but cannot afford to do so.  The resources in this special fund then enable AMIDEAST to provide the services that assist several candidates each year to apply an
The U.S. Department of State's Middle East Partnership Initiative (MEPI) and AMIDEAST are pleased to announce this year's recruitment for the Tomorrow's Leaders Scholarship Program. The Tomorrow's Leaders Scholarship Program is a MEPI initiative for capable and highly motivated high school seniors in the Middle East and North Africa who are from underserved backgrounds. The program will provide four-year university scholarships and internship opportunities at select institutions of higher learning in the Middle East to students who have the potential to become leaders. 
Participation in the program includes: travel; academic fees for four years of university at AUB, AUC, or LAU; a study abroad experience in the U.S.; accident and sickness insurance; housing; and a monthly allowance. In addition to their studies, recipients will be expected to engage in community service activities and participate in internships. Limited English-language training will be provided for some participants. 
We are not currently accepting applications. Please check this page for updates.
American Councils for International Education and the American Civics Center will conduct a week-long Civic Education Workshop for 100 YES students currently studying in the United States from February 23-March 1, 2014, in Washington, DC. Participants of the Civic Education Workshop will be chosen in December through an application process that is open to all YES students currently on program. The Civic Education Workshop is a unique opportunity for YES students to gain hands-on experience with U.S. organizations committed to community service and social change. Participants will take part in a series of events and activities designed to increase their knowledge of U.S. government and build their capacities and commitment to community service when they return to their own countries. Participants will also see first-hand the institutions of American government, including visits to Members of Congress and a dialogue with policy makers at the State Department.
American Councils plans to invite three outstanding YES alumni to take part in the workshop as mentors to current YES students and as ambassadors of the program. Talented and dynamic alumni who have a demonstrable record of community service in their own countries are invaluable role models for YES students as they begin to think about community service back home. By showing a commitment to community service and social change, YES alumni have also proven to be wonderful ambassadors for the program during special meetings at the State Department and with members of Congress.
Transportation to and from the U.S., visa fees, housing and meal costs, as well as per diem will be provided to the three alumni by American Councils.
Interested alumni can apply for this opportunity by completing the attached application and submitting it to itouri@amideast.org Applications must be received by November 15th, 2013.
All YES alumni are eligible to apply for this opportunity, but preference will be given to alumni who can demonstrate a consistent commitment to community service for the betterment of their home countries.
We are not currently accepting applications. Please check this page for updates.
Master's Scholarship Program
funded by the U.S. Agency for International Development
AMIDEAST is pleased to work with the U.S. Agency for International Development to implement the Master's Scholarship Program (MSP).
Through MSP, USAID will fund twenty scholarships for targeted professionals from the West Bank and Gaza to earn their master's degrees at U.S. universities, starting in the fall of 2014.
The objective of MSP is to impact professions needed for a stable and growing economy in Palestine.
MSP Timeline for 2014
 
Full application deadline

January 16

Applicants notified whether they will be interviewed
The Diana Kamal Scholarship Search Fund (DKSSF) was established in memory of AMIDEAST Senior Vice President Diana Kamal in recognition of her dedication to international educational exchange. The DKSSF identifies talented young Arab students and matches them with scholarship opportunities at U.S. colleges and universities. Since its introduction in 2006, it has successfully matched more than 40 students from Yemen and other Arab countries to date.
Who is Eligible?
Current grade 11 students who will complete grade 12 in summer 2015;
Current grade 12 students who will complete grade 12 in summer 2014 and will not enroll in university studies in the coming academic year; or
Students who graduated in 2013 and are currently in their first gap year;
A student who demonstrates high academic achievement in their 9th, 10th, and 11th grade studies (and 12th grade, if applicable);
Possesses strong English language skills;
Demonstra
We are not currently accepting applications. Please check this page for updates.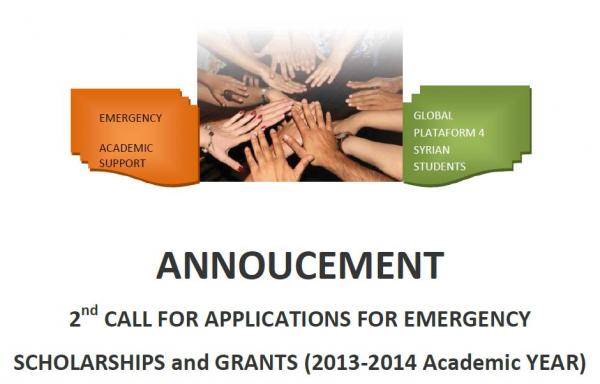 We are not currently accepting applications. Please check this page for updates.
The Hope Fund Undergraduate Scholarship is designed to provide talented youth who possess leadership potential with an opportunity to pursue an undergraduate degree in the United States. This year the scholarship will target Syrian refugees living below the poverty line throughout the Mideast, but especially in Lebanon and Jordan where the needs are most urgent. Since its inception in 2000, nearly 66 bright young men and women have begun their undergraduate studies in the United States with Hope Fund scholarships.

Hope Fund scholarships provide:
Orientation
Travel arrangements to the US (if eligible)
Full tuition fee waiver for the study of a four-year Bachelors degree only
Annual stipend for books and other basic materials (if eligible)
Monthly living stipend (if eligible)
** This scholarship does not cover the following fields: dentistry, pharmacy, and medicine.
Pages