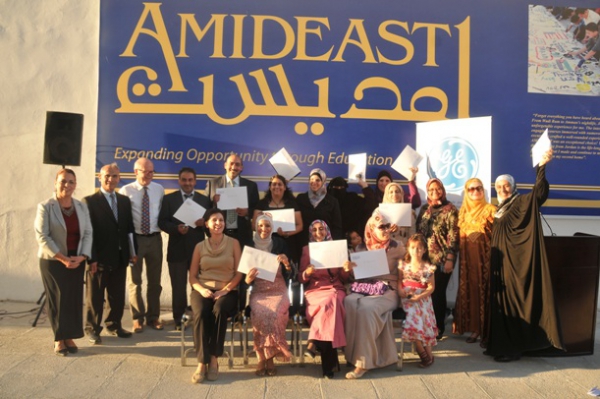 PCELT graduates in Jordan proudly display their certificates of completion.
Washington, DC, and Dubai, UAE, May 14, 2014—GE Foundation, the philanthropic organization of GE (NYSE: GE), which focuses its efforts in the areas of health, education, the environment and disaster relief, has joined hands with the American educational organization AMIDEAST, to offer the Professional Certificate in English Language Teaching (PCELT) program for English language teachers in the Middle East and North Africa (MENA) region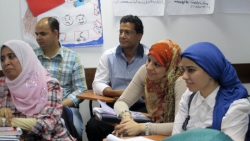 Launched in 2012, the program is offered by AMIDEAST in partnership with the World Learning/SIT Graduate Institute and aims at raising the overall standards for teaching English in the region's schools and universities by providing candidates with an innovative approach and curriculum that combines international best practices and topics relevant to the region.
AMIDEAST ranked seventh among providers of study abroad programs for Americans and its Area & Arabic Language Studies Program in Rabat, Morocco, was rated fifth among single programs in the latest worldwide annual rankings issued by Abroad101, the oldest and largest study abroad review website.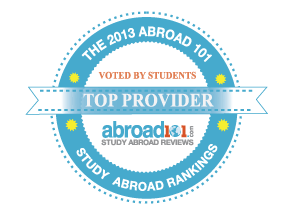 Abroad101's "2013 Study Abroad Rankings" rated AMIDEAST's Education Abroad Programs in the Arab World on the basis of its 18 programs in Egypt, Jordan, Morocco, Oman, and Tunisia, which offer study and intensive language options.  They received an overall score of 4.6 out of 5, while its Rabat program received "five stars" from 19 out of 22 reviewers.
A strategic new partnership with the Union for the Mediterranean (UfM) is about to expand AMIDEAST's efforts to advance the economic empowerment of women in the Middle East and North Africa.  AMIDEAST will soon offer "Skills for Success—Employability Skills for Women" in Jordan and Morocco with funding from the Norwegian government and the Flemish Department of Foreign Affairs. Implementation in Egypt, Lebanon, and Tunisia will follow, with a total of 450 women — 90 in each of the five countries — to be trained.  Endorsed by the UfM as a key component of its strategy to improve the socioeconomic situation of women in the Euro-Mediterranean region, the initiative was formally launched during the UfM's Women's Socio-Economic Empowerment: Projects for Progress conference, held March 26–27 at its Barcelona headquarters. 
High unemployment rates among youth in the Middle East and North Africa have attracted much attention. Less talked about is unemployment among the region's young women—at 42 percent, nearly double the rate for young men — as well as the labor participation rate for women, which, at 25 percent, is the lowest in the world. Together, such indicators translate into a lack of economic opportunities that leaves young Arab women vulnerable to social and economic inequality.
Washington, DC, March 26, 2014—AMIDEAST is pleased to announce the launch of a new partnership with the Union for the Mediterranean (UfM) to provide employability skills training in Egypt, Jordan, Lebanon, Morocco, and Tunisia. "Skills for Success–Employability Skills for Women" will specifically target disadvantaged women who have completed secondary school with training designed to improve their ability to enter and succeed in the workforce.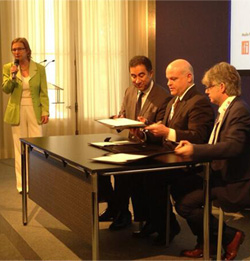 The launch of Skills for Success took place during the UfM's "Women's Socio-economic Empowerment: Projects for Progress" conference at its Barcelona headquarters on March 26-27, 2014. It included a formal signing of the agreement between AMIDEAST, the UfM, and the Flemish Department of Foreign Affairs, which will add to funds already provided for the program by the government of Norway.
AWEP alumnae are breaking new ground as they succeed as business owners meeting diverse needs.
AMIDEAST/Morocco is preparing to deploy a new training tool that will enhance its efforts to provide employability skills training to Morocco's large youth population. The "Business Edge" (BE) program—a product of the International Finance Corporation (IFC), the World Bank's private sector arm—will also strengthen AMIDEAST's ability to provide management training for Morocco's growing small and medium-size enterprise (SME) sector.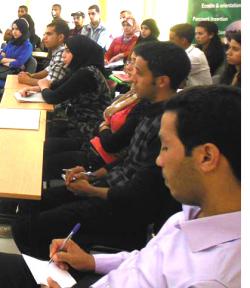 The Business Edge toolkit was developed and introduced by the IFC to put management tools in the hands of owners, managers, and staff of SMEs, enabling them to grow their companies. The training encompasses a range of skills to improve personal productivity, human resources management, finance and accounting, quality and operations, and marketing. It is adapted to the local business context, and the IFC relies on a network of local franchised providers and certified trainers to deliver the training.
Participation in AMIDEAST's DKSSF program is hard work, but well worth the effort, as 15 exceptionally bright young men and women from Lebanon, Morocco, Tunisia, and the West Bank discovered this year. This largest-ever pool of deserving Arab youth in the six-year-old program succeeded in gaining admission and generous scholarships that will make their college dreams come true!
This fall, the eight men and seven women will begin their undergraduate studies at Barnard, Dartmouth, Mount Holyoke, Wesleyan, and Williams Colleges; Brigham Young, Duke, Harvard, Hawaii Pacific, and Northeastern Universities; and the University of Pennsylvania.
Two of the women students have also been nominated for the NeXXT program, a U.S. Department of State initiative that encourages international women undergraduates to major in science, technology, engineering, and math (STEM) fields. 
A pressing concern of young people in the region is how to get an education that will give them the knowledge and skills required for entry into the highly competitive MENA job market and to advance professionally. In April, AMIDEAST and Morocco's Ministry of Higher Education, Scientific Research, and Executive Training assembled a group of experts and officials for a discussion of the challenges facing Morocco's universities as they seek to meet the needs of Moroccan youth who are looking to these institutions to prepare them for the real world.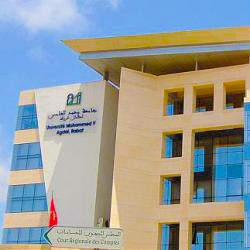 The topic is timely. According to a recent World Bank report, around 30 percent of Moroccans between 15 and 29 in age—who account for 44 percent of the working-age population—were unemployed. The actual unemployment rate is likely higher, however, as these statistics don't include many youth who have given up looking for work.
Pages